Tips for traveling solo
Does the idea of traveling solo scare you? If so, you're not alone. Many people feel uncomfortable about traveling on their own to a new city or foreign country. If you're like others, you may worry about getting lonely or bored, and you may have doubts about your safety and ability to find your way around without the help of a travel companion.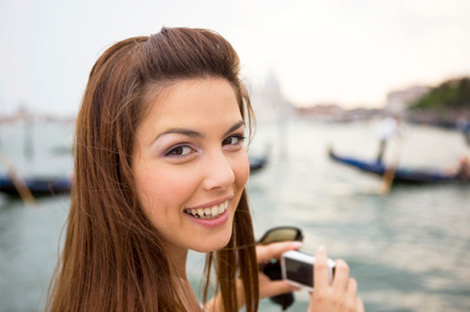 These are common considerations for anyone traveling solo, but they shouldn't become obstacles that prevent you from enjoying your trip. To ensure you stay safe and make the most of your travels, consider the following tips.
Selecting a destination
When traveling for business or to visit a particular person, you probably won't have the option of picking your destination. If you're traveling for a vacation, however, you have a variety of options. Lauren Sullivan, site editor for Cheapflights.com and author of the guide "How to Travel Solo," suggests choosing a destination that's not foreign to you. "For U.S. travelers, spots in the States like San Francisco or New York are a great starting point. Flights to these cities are frequent and short, the locals speak your language and getting around is a breeze," she explains.
Jeff Klee, CEO of CheapAir.com, further explains that it's best to select a spot that won't be packed with couples. "Unless you're a masochist, trying to hang solo in a place that's known for honeymoons is a recipe for disaster. The nightlife will likely be non-existent and you'll feel left out as you watch couples canoodling," he notes.
Picking a place to stay
Should you stay in a hotel, timeshare, bed and breakfast or hostel? Your budget and itinerary may heavily factor into your decision, but there are a few other things to keep in mind when making a selection. , "A bland chain hotel might earn you points, but you'll be enjoying those perks alone," Klee says. "You'll want to choose a hotel that has an active nightlife scene, communal eating or revolves around a group activity like yoga or surfing."
Preparing to leave
Sarah Schlichter, editor of IndependentTraveler.com, advises you to let family and friends know where you're going and how they can reach you. "Make copies of your full itinerary of flights and transportation to leave with your most trusted loved ones. Also, select flights that arrive during daylight hours, and try to connect to people on the other side using social media networks," she suggests.
Getting around on your own
Getting from point A to point B while on your trip can be difficult if you don't have a travel buddy to share expenses and lend advice. When traveling from the airport to the hotel or city center, Schlichter encourages you to know how long it will take and how much it will cost. "Solo travelers are more likely to be 'taken for a ride,' so ask the taxi driver how much it will cost before you leave. If it's considerably different from what you know to be true, take a different cab," she advises.
In addition, she suggests checking out your maps and schedules before leaving. "A solo traveler poring over maps can be a mark for unsavory types," she notes.
When asking strangers for directions, Schlichter says it's OK to lie a little, so that it's not obvious you're alone. She suggests asking questions such as "Can you direct me to the museum? I have to meet a friend."
Consulting travel guides
To gather ideas on where to eat and what to do, people often turn to guidebooks for recommendations. To make the most of this advice, solo travelers should look for resources that are better tailored to their situation. Klee explains, "Certain guidebooks are geared towards families, while others cater to those who are only interested in luxury travel. Snag a guidebook like Lonely Planet or the Rough Guides and you'll find a plethora of listings that are aimed at pleasing the solo traveler, from restaurants to hotels."
More travel tips
Multitasking beauty products for easy traveling
Take your job abroad and travel while you work
5 Sites to find a hotel room alternative
---