Savvy ways to trim wedding expenses
Getting married is one of life's major milestones, but it's an experience that can take a tremendous toll on your bank account.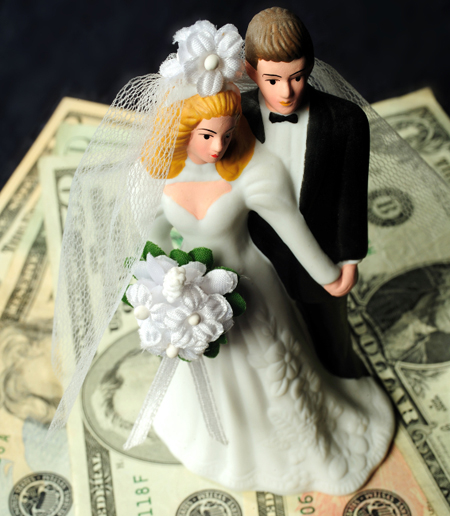 To ensure you stay within your budget and avoid the financial fiascos and frustrations associated with overspending on unnecessary splurges, consider the following tips:
Take your time
Kelly Moore of Ambiance Event Planning & Floral Designs says that one of most effective ways to trim expenses is to extend your engagement. "Couples who are engaged for one to six months will, on average, pay more than couples engaged for 12 months-plus. The more time you have, the more you can shop around for deals and discounts," she explains.
Hire an expert to help plan the wedding
Before you balk at the idea of hiring a wedding coordinator and adding another expense to your budget, realize that an expert can open your eyes to little-known saving strategies. According to Moore, "A wedding coordinator can save you money by passing on discounts from other vendors. A coordinator can also keep you on your budget and eliminate the wasted money that many brides encounter by excess purchases."
Wed in the off-season
"December through early March is the off-season for many wedding vendors, which means they may offer discounts and deals to increase business during this slow part of the year," explains Camille McLamb of Camille Victoria Weddings LLC. "Even venues may charge less on their rental fees during the off-season. Brides should check the vendor's website or just ask whether they are offering any winter specials."
Turn to your local printer for invitations
McLamb says couples can save as much as 50 percent of their invitation budget if they order invitations from a local printer instead of buying them from a retailer. "Good printers have a design person on staff that will talk with you about your vision and bring it to life. They offer a wide variety of different papers, so they are often able to create the same types of invitations that you see in the retailers' invitation sample books," she notes.
Invite only those who are near and dear
The number of guests at your wedding is directly tied to the expense of many items in your wedding budget such as food, alcohol, cake, and chairs—just to name a few. Brandy Blackford, owner of the Arizona-based company Sweet I Dos, says, "Only invite the people who mean the most to you: those who have been there through all of life's ups and downs. Consider also, an adult-only reception."
Skip the sit-down dinner or buffet
Serve a variety of hors d'oeuvres instead. Your guests will still feel as though they're being treated to tasty food, and you'll spend less than you would have on a full meal. "We're seeing food station weddings more and more. Stations are set throughout the room offering guests dining choices and letting them eat when they prefer, dance, and socialize more and avoid long lines at the buffet table," says Angela Rando, a wedding planner for Juliet Events in New Jersey. According to her, food stations are more chic than a buffet and less expensive than a sit-down dinner.
Re-evaluate just how many flowers you really need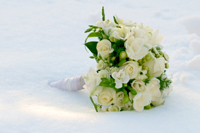 Here's a subtle way to spend less, without feeling as though you're compromising the quality of your wedding: Rando recommends purchasing smaller bouquets. "No longer is it necessary for everyone to have large, costly bouquets. A pretty bouquet for bridesmaids as an accessory, rather than a focal point, can save money. If the men are wearing suits rather than tuxes, skip the boutonnieres. Also, ask the moms if they want a corsage. Many are happy without one," she explains.
Wait to purchase your wedding album
Kelly Guenther, a photographer in New York City, says couples shouldn't roll the budget for their wedding album into the one reserved for their photographer. "Albums are expensive. Wait to order the albums until you've recovered from the wedding a bit. Put your money into hiring talent, so you have amazing photos to one day assemble into an heirloom album," she advises.
Related articles
Trendy bridal shower activities
5 Gift ideas for "girly" brides
Nontraditional wedding gifts
---