Bridal showers: Games are out, activities are in!
If wedding shower games like "Bride Bingo" make you cringe, you're not alone—we're not big on them either. They're a little cheesy, kind of awkward and definitely overdone. Why play games when there are so many other things guests can do that are more fun and unique?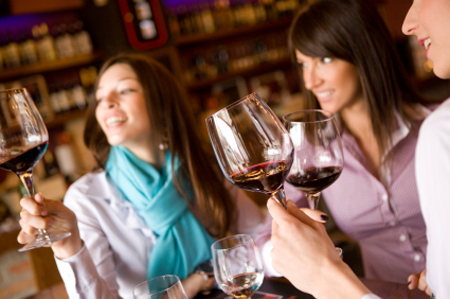 When hosting a shower, don't be afraid to break tradition. Skip the games and surprise guests with an activity they've never done. Here are a few ideas to get your creativity flowing:
A Wine Tasting
A wine tasting is a great activity for a shower because it doesn't make guests feel as though they're being put to work or pressured to compete with others. All it takes is a little willingness to sip something new.
Merrily Rocco, a wedding designer and owner of Merrily Wed in Tahoe City, California, recommends giving a "blind" taste test. She suggests having the attendees guess the bride's favorite wine and vote on which one they thought was best. She notes that this activity would entail each shower attendee bringing a bottle of wine to share, or the hostess providing several different types. Another option is to host the shower at a nearby winery where professionals could conduct the tasting and educate guests about each wine.
A Floral Design Course
Flowers are a fundamental décor element at most parties and weddings, but they can also be the inspiration for a fun bridal shower activity. Kristi Pohly, owner of Fleur Décor in Denver, Colorado, recommends offering a floral design course that gives guests the opportunity to create a stunning arrangement for their own home.
For this activity, Pohly suggests hiring a floral designer to select the flowers that guests will work with and to provide instruction about the preparation, design, and maintenance of the flowers. She also recommends giving each guest an apron to wear and a pair of trimming shears to take home with their personalized arrangement. As hostess, you can provide the vase or container for each guest's arrangement or Pohly says you can have guests bring their own.
Cupcake Decorating
In addition to providing guests with plenty of sweet treats, have them decorate their own! Decorating cupcakes is a great way for guests to have fun and liven up the shower, according to Claudia Copquin, founder and editor of Long Island's only bridal blog GettingMarriedonLongIsland.com.
To ensure this is a fun and successful shower activity, Copquin offers the following advice:
"Set up a few stations at a kitchen table. Hand out cute aprons for your guests to work with—they can take them home as a favor—then get baking! Once the cupcakes are cooking, have lunch or open gifts. Then, once the cupcakes are cooled off, have a blast decorating them. Set up a bar with sprinkles, icing, and other accoutrements. Offer a prize for the best, sexiest, and most uniquely decorated cupcake."
A Photo Session
Take advantage of having the bride-to-be's closest friends and family gathered together all at once. "Bring in a professional photographer, glam up, and pose with your gals," says Rocco. "The theme of the photo shoot can change to match the bride's personality or even the bridal shower's theme. These photos are something everyone would definitely want to keep forever."
Related articles
5 Gift ideas for "girly" brides
Nontraditional wedding gifts
How to trim wedding expenses
---